Water Spray Mist Fan For Home With Water Tank
Product origin:
Guangdong, China
Delivery time:
50~60 days
Water Spray Mist Fan For Home With Water Tank
Water Spray Mist Fan For Home With Water Tank is the 18 inch commercial mist pedestal fan. NAKKA 18 inch cooing air mist fan is ideal for factory, warehouse, supermarket, garage or the places need cooling. Our BLDC fans have patented. No matter the fan motor, fan blade or outlook design is unique, no one can imitate us. Our fans have the characteristics of energy saving, quieter, comfortable and intelligent control.

We are professional BLDC fan manufacturer, undertaking OEM&ODM trade orders. Since we have produced and researched BLDC fan for over 6 years, our technology for BLDC fans is very mature. We attach great significance to the quality of products, in every order we strive to do the best, listen to customer feedback and constantly improve our own development requirements.
Water Spray Mist Fan For Home With Water Tank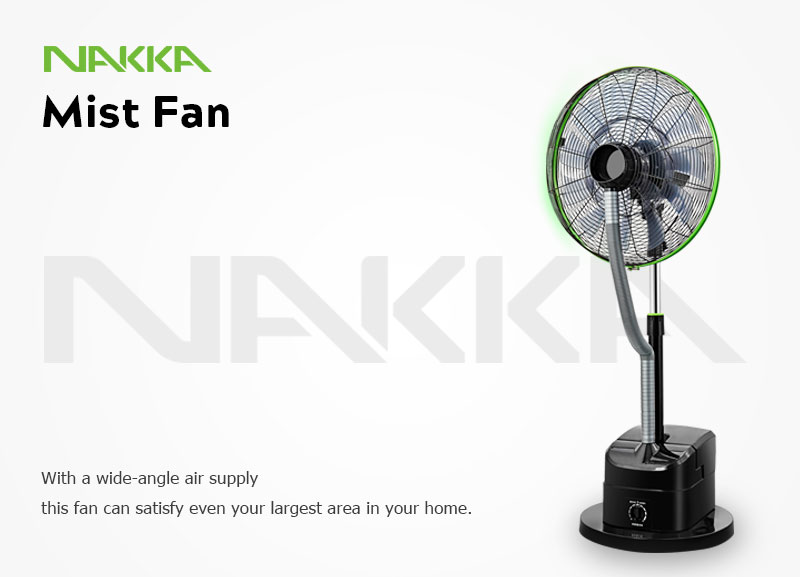 Energy Saving Mist Fan
NAKKA water spray fan uses BLDC motor, conversion rate up to 80%, which is more energy saving, quiet and durable. The energy efficient mist fan for home has passed European ERP standard, more guaranteed and secure.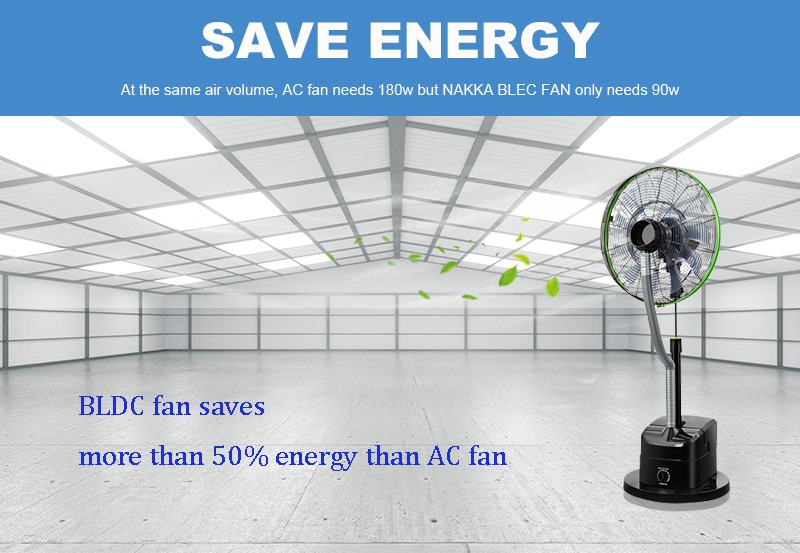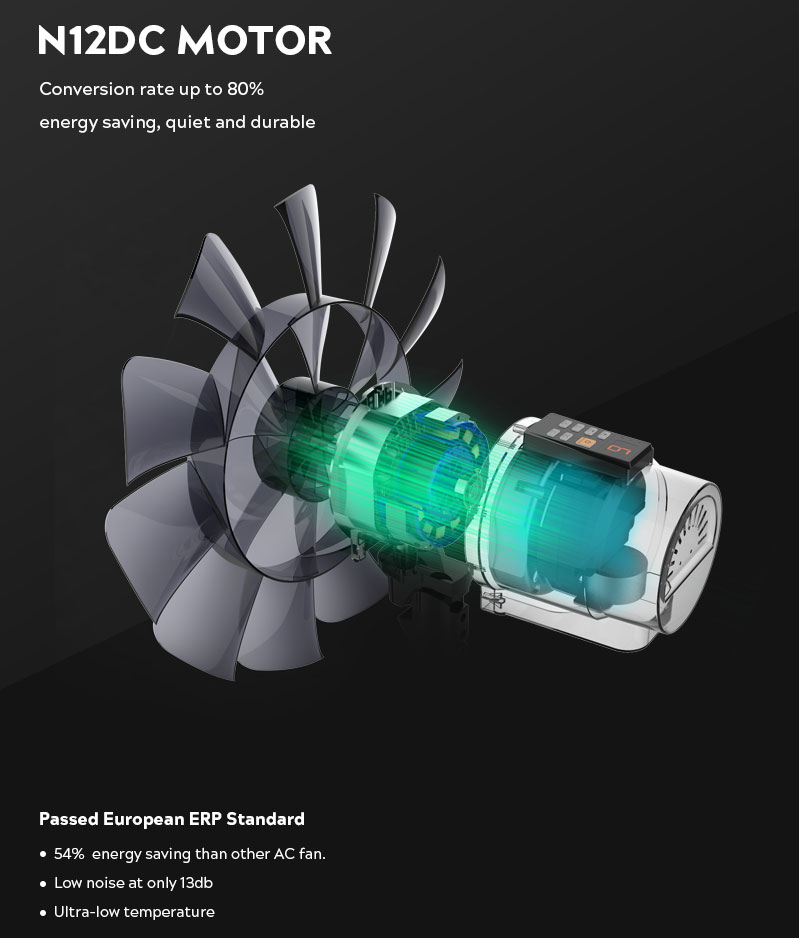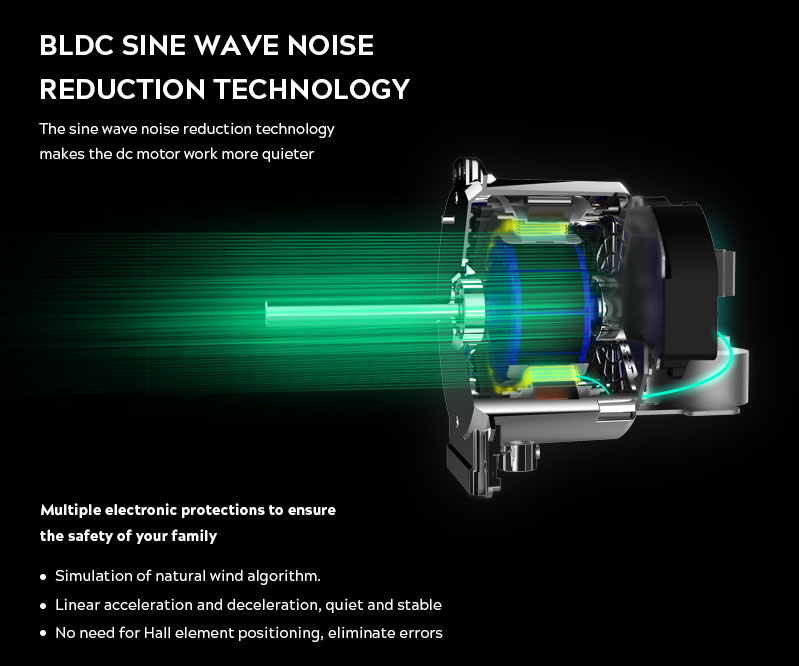 Soft and Strong Water Vapor
The output of water vapor makes your environment cooler. Cooling mist fan has a big misting volume. The fan with water tank of 2L keeping pours a soft fog to cooling your area.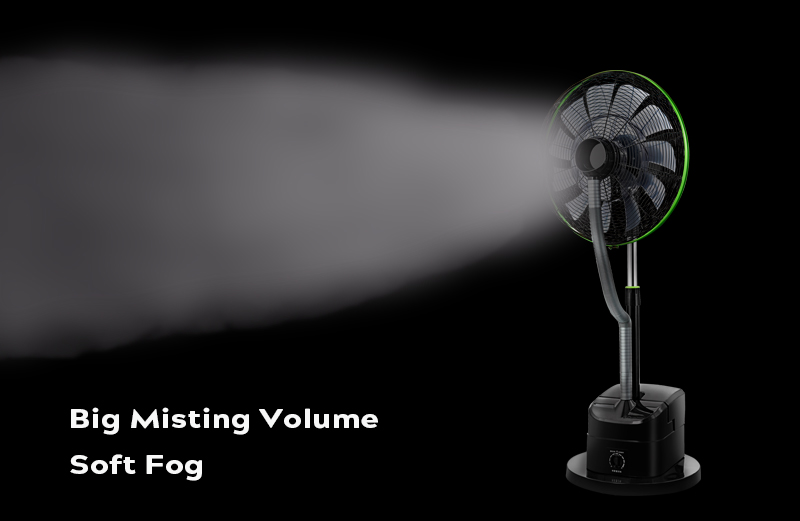 Safe for Use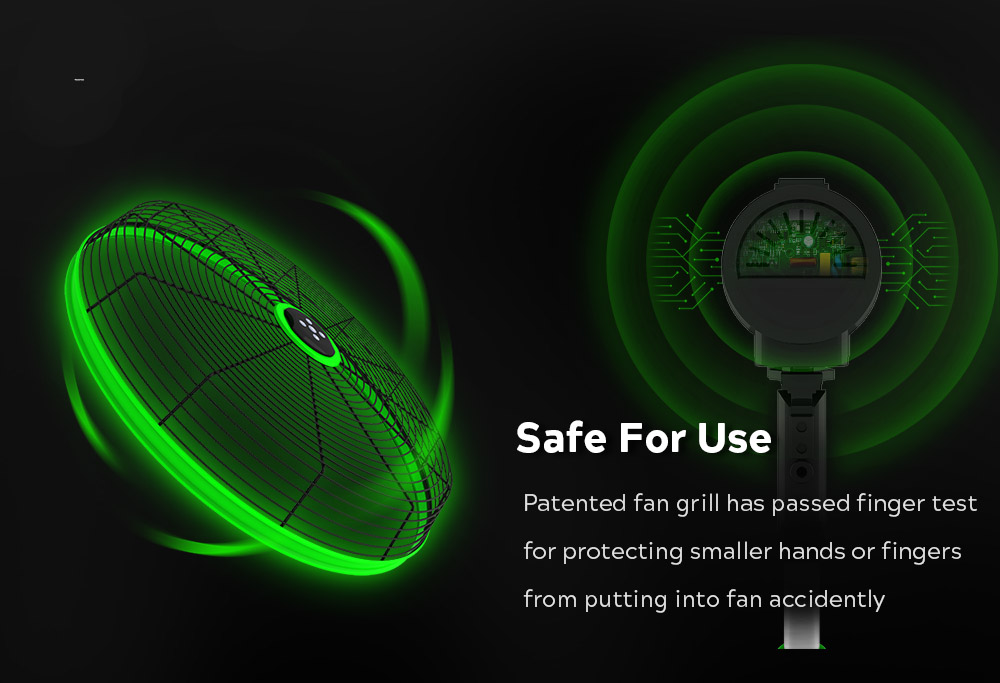 Patented Fan Blades
The fan blade has patented technology. Combining with the mute technique, Commercil mist fan can provide you a wider fan and quieter using experience.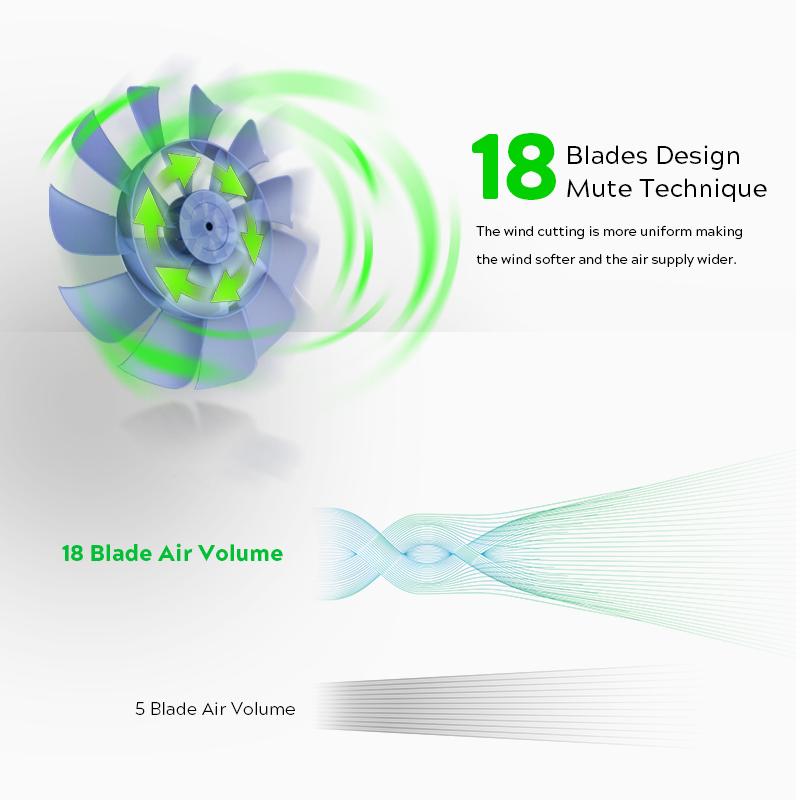 Wide Angle Air Supply
18 blades design making the wind cutting is more uniform, the wind softer and the air supply wider, providing you a wind angle air supply and comfortable wind feelings.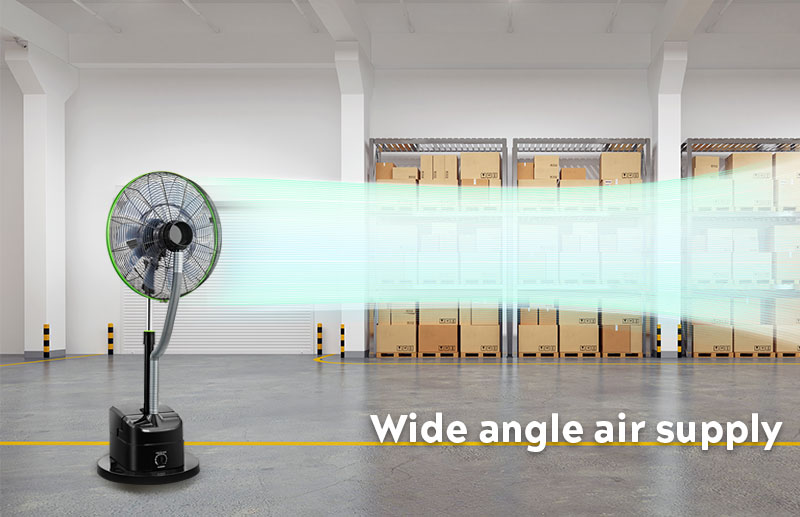 Comfortable Bionic Natural Wind Function
Changeable Frequency Conversion Bionic Natural Wind is our unquie design. According to BLDC motor algorithm, MIST FAN can deliver a wind sometimes strong, sometimes week, just as the natural wind.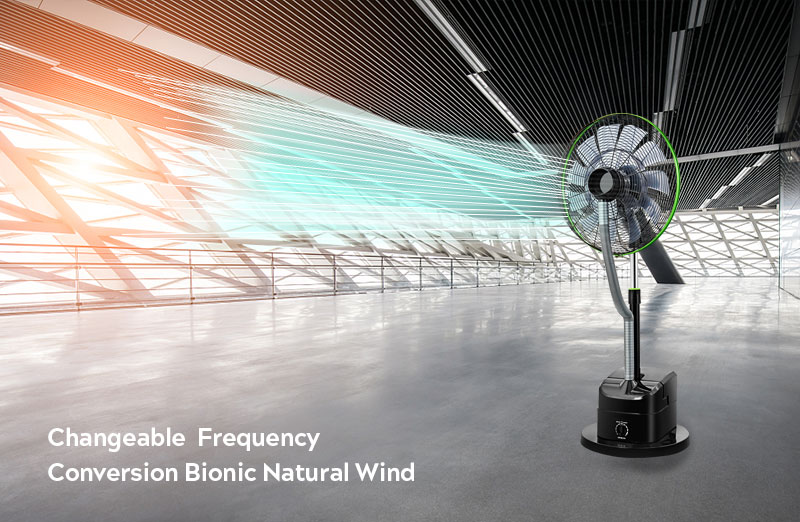 Rotary Switch Control Panel
Intelligent mist fan control panel is the rotary switch. Switch on and off the fan or adjust the speed of the wind can be controlled by simply turning or pressing the knob.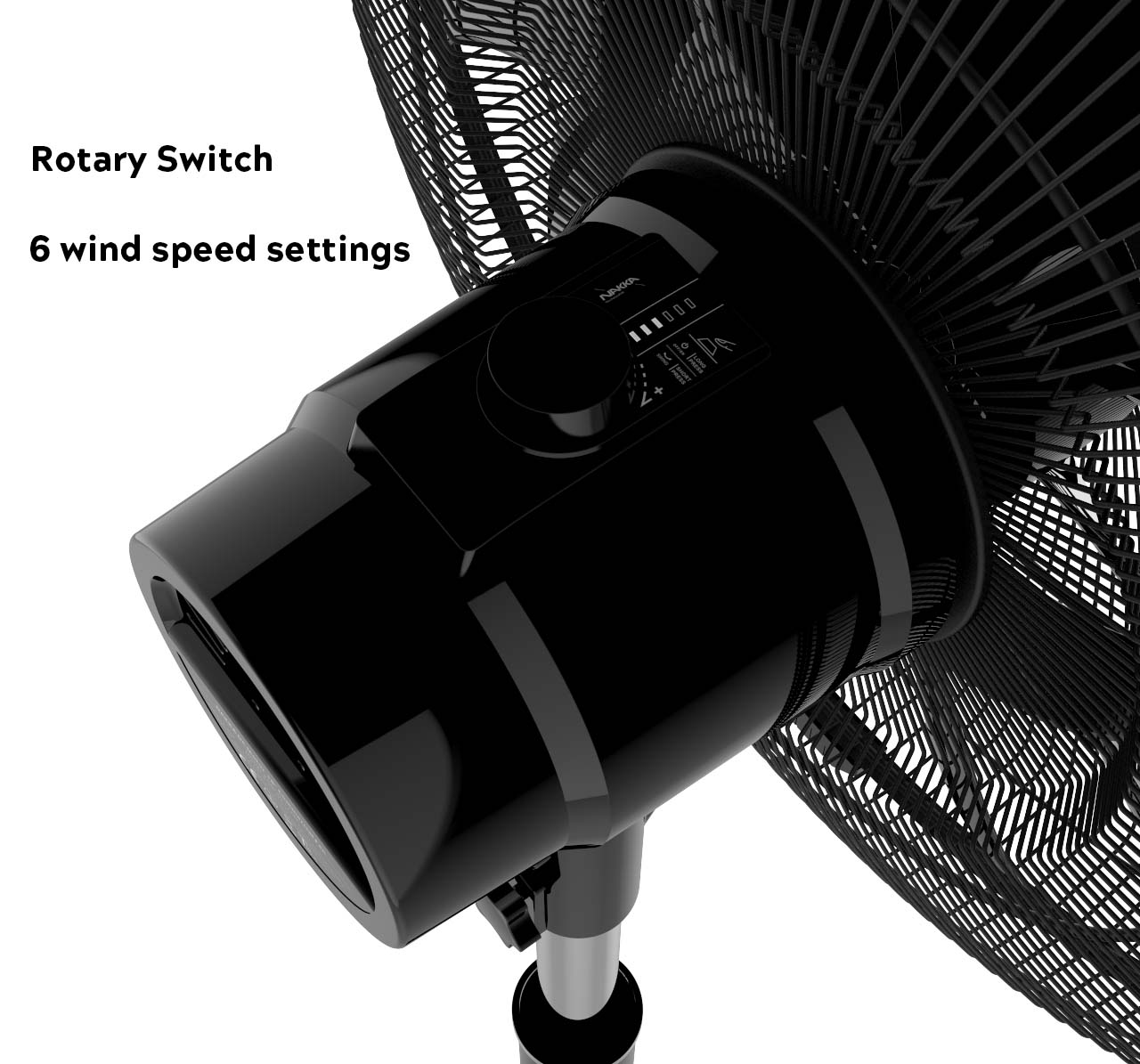 Available with Remote Control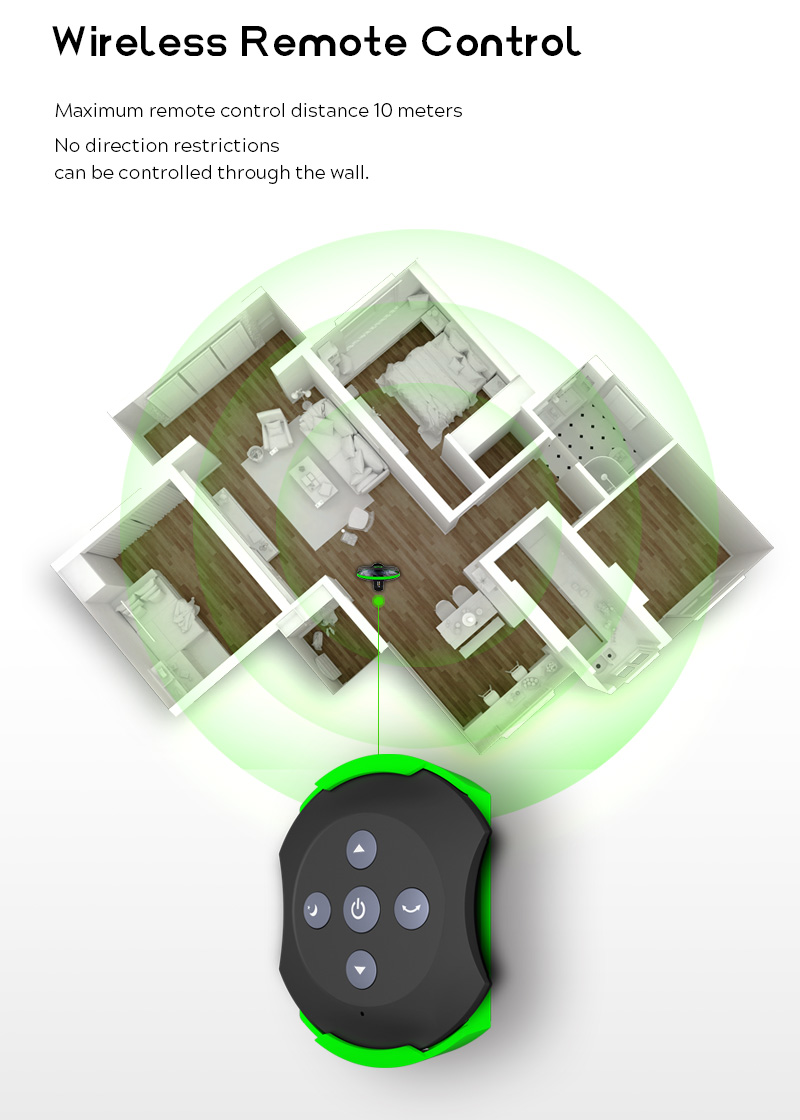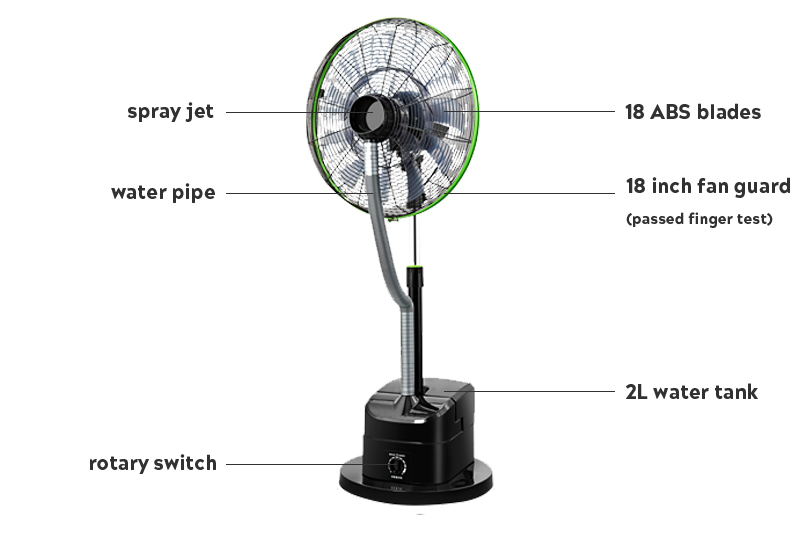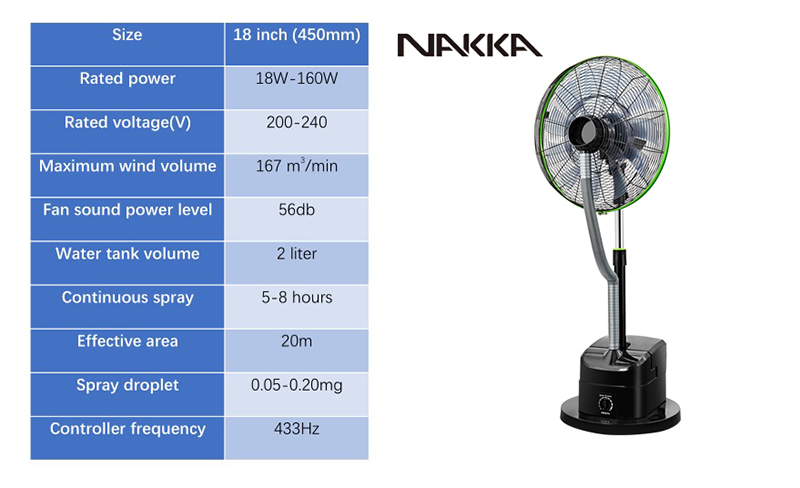 Enterprise Social Responsibility
NAKKA's packaging meets the environmental requirements and contributes to society by using environmentally friendly materials to the best of our ability. NAKKA's products are manufactured in strict compliance with certification requirements. In the process of product production, NAKKA also strictly abide by the national laws and regulations, which do not produce and discharge garbage and gas pollution to the environment.