Live show broadcast on Thursday
Hello dear all, thank you for reading today's news. Good day to you. Today we are going to inform you our second live show on Thursday.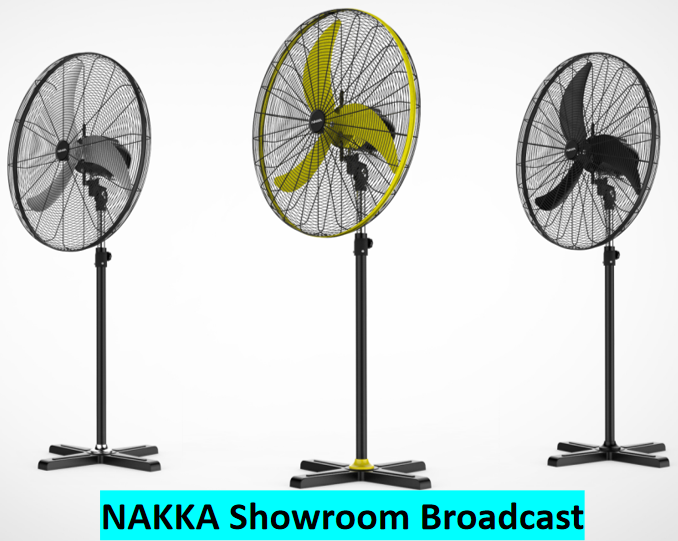 On Thursday, we are going to hold our second live show. The topic on Thursday live show is to introduce the commercial series.
Commercial series is the 18 inch series, including the pedestal fans, wall fans, floor fans and double head fans.
On Monday, we had introduce the 18 inch pedestal fan. Do you have a clear understanding on it, right now? If no, don't worry and please feel assured, we will introduce it again and will show you other types of fans as well.
Size

18 inch (450mm)

Rated Power

90W

Rated voltage (V)

220-240V/100-120V

Maximum wind volume

167m³/min

Fan Sound Power Level

56 db

Left&right air supply angle

90

Up&down air supply angle

35

Control frequency

433Hz




Gross weight

7.4kg

Net weight

6.6kg

Packing size

52.5*29*53.5 cm




20 GP

352

40GP

720

40HC

899
Size

18 inch (450mm)

Rated Power

90W

Rated voltage (V)

220-240V/100-120V

Maximum wind volume

167m³/min

Fan Sound Power Level

56 db

Left&right air supply angle

90

Up&down air supply angle

35

Control frequency

433Hz




Gross weight

7.5kg

Net weight

7kg

Packing size

73*19*52.5cm




20 GP

419

40GP

838

40HC

959